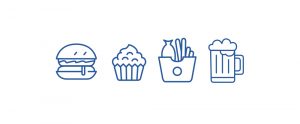 Handcrafted meals with all natural ingredients.
Collingwoods Diner recently opened and is supposed to be the »best late night chippy traditional english pub in town«. Collingwoods offers typical American dishes with fresh, healthy and all natural ingredients.
Custom badges were created to show the key values. The contrasting red and blue colour palette, the combination of a playful and a clean typography and custom badges as well as icons all come together to create a recognizable menu design for the diner. It grabs attention and invites to dine.